Search Marketing Expo – SMX London
13 & 14 May, 2014
Lenovo Vice President and General Manager Keynotes at SMX London 2014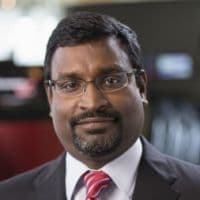 Ajit Sivadasan manages a team spanning 10 countries worldwide, focusing on driving online and digital demand generation and brand campaigns integrated with social media, SEO/SEM, retargeting, advanced segmentation and affiliate marketing strategies. He also spearheads several marketing optimization strategies using advanced analytics and big data concepts. Mr. Sivadasan earned his Bachelor of Science in Industrial Engineering at the University of Kerala in India, where he achieved a "top student" award for his extracurricular and academic performance. After working in India for a time as an industrial engineer and business analyst, Ajit Sivadasan completed his Master of Science in Industrial Management at Northern Illinois University. In 1999, he earned an MBA in Strategy and Finance at Claremont Graduate University in California, graduating in the top 5 percent of his class. Mr. Sivadasan's achievements with Lenovo over the past six years include driving significant increase in the firm's internet business from consumer and small to medium-sized businesses, driving penetration of the business into newer global markets. Ajit Sivadasan has also contributed to significant increases in global profits through improved end-user experiences.
---
Danny Sullivan Headlines at SMX London!
SMX Chief Content Officer, Danny Sullivan, is coming over to SMX London 2014. Widely considered one of the leading search experts in the world, Danny will share his wisdom with you whilst also spending time with the delegate throughout the event discussing the burning issues. Danny Sullivan doesn't come to London often and the only place where you will see him speak is at SMX London 2014- Don't miss him!!
---
SMX London: Something For Everyone
Whether you're a web designer, developer, in public relations, advertising or traditional marketing, it's imperative for you to maintain your on-going education in search marketing and its ever-changing ways. And as organizations integrate online and offline marketing, it's crucial to understand how search fits in with the "big picture," not only contributing to enhanced brand exposure but in many cases paying for itself via measurably improved ROI.
---
Program By Search Engine Land
You can be confident that you've invested wisely when choosing Search Marketing Expo. SMX is programmed by the search marketing authorities who edit the leading news blog Search Engine Land and who have years of experience educating search marketers.
SMX West co-chair
Danny Sullivan
has been writing about search engines and programming search marketing events for well over a decade. He is renowned for producing quality shows where the information presented is so good that attendees frequently start implementing tips during breaks! Danny is founding editor of Search Engine Land, the leading news and analysis blog for search marketing professionals and is a creative force behind SMX.
Conference co-chair
Chris Sherman
has analyzed and influenced developments in search marketing for more than a decade. He is VP of Event Editorial of Search Engine Land and the creative force behind Search Marketing Expo events around the world. He is also the author of several books on search marketing and technologies, including "Google Power: Unleash the Full Power of Google," published by McGraw-Hill.
---
SMX Boot Camp Gets You In Shape
If you're new to search marketing, our SMX Boot Camp will get you up to speed. It happens on the first day of the show, Monday 12th May. Attend and you'll learn the fundamentals in these sessions:
Keyword Research & Copywriting For Search Success
Link Building Fundamentals
Paid Search Fundamentals
Search Engine Friendly Web Design
SMX Boot Camp Agenda
---
Become a Blog Partner
Interested in becoming an official SMX London Blog Partner? Click
here
to see a list of this year's blog partners and discover more
---
Produced By:
In Association With:
Programme By: